10% off + Free US Shipping with code: YAY10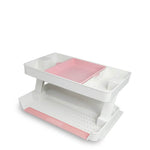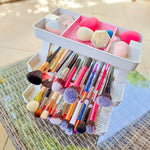 MAKEUP BRUSH DRYING RACK - RIVANLI
Regular Price

$59.00
Sale Price

$59.00

Regular Price
Unit Price

per
Why you need the RIVANLI Makeup brush drying rack
Developed by a working makeup artist, this makeup brush drying rack is trying to solve all (or at least most) of the annoying issues we face when washing and drying our makeup brushes and sponges.
Why RIVANLI is the best brush drying rack?
Finally a drying rack which fits ALL brushes - thin, chubby, long, short and even dual sided!
A special tray to dry your makeup sponges.
Keeps your counters / tables free of those annoying towels you use to dry your brushes.
Helps with speeding up the brush washing process (watch the "How to use" video to learn how).
You get

an extra mini tray to hold your shampooed brushes during the washing process.

Super stable! Made of strong & high quality materials only - this drying rack will last you for years! You can definitely see it as an investment. (And it also comes with 1 year warranty!)

Provides the perfect downward angle for the brushes to dry, preventing water damages.

Has a

rubber band at the front of the tray, which keeps the brushes from sliding and falling.

Can hold about 50 makeup brushes and 10 makeup sponges, which is perfect even for a busy makeup artist.
Yes, we've though of everything :)
More reasons why this is the best brush drying rack:
With our brushes and sponges drying rack, the washing and drying process for your makeup tools and accessories made fast and easy!

If you are struggling with how and where you clean and dry your makeup tools; If you are tired of those brush drying trees; If you are a professional makeup artist, starter or just a makeup lover - the RIVANLI Brush Drying rack is the perfect solution for you.
* When you buy the RIVANLI drying rack you are helping a small business. Thank you for your support!
RIVANLI Makeup brush drying rack can hold up to 50 brushes and 10 wet makeup sponges at a time. It has been specially designed so that ANY brush can have its own place, no matter how long, short, fat or thin it is! Fan brushes, short Kabuki brushes, thin eyeliner brushes, you name it - it will fit!
Our drying rack is a professional makeup artists must have, it saves time, energy, and will even make your brush washing and cleaning process faster, easier and more organized.
How long will it take for the makeup brushes to dry?
After washing your brushes, make sure to squeeze the water out of the brushes very well, and put to dry. The fluffy and smaller brushes should dry quickly, between 2-6 hours. Big and dense brushes' drying time will be longer.
Who will enjoy our makeup brushes and sponged drying rack?
Anyone who lives and breaths makeup - from the busiest professional makeup artists to the new makeup artists and students, who are building their first starter makeup kit. Makeup ehnthusiastics, and even painters who are using brushes in their everyday work will benefit from our drying rack. RIVANLI will be the perfect stand to hold your washed brushes to dry, and you can also use it as a brushes and other makeup tools and accessories' storage solution.
Looking for an original gift for a makeup artists and makeup lovers?
Rivanli Drying rack will be the perfect gift for anyone who loves makeup and have a nice collection of makeup brushes and sponges. Get this perfect present to someone you really love - they will thank you, guaranteed!
- US Patent No. D852446

- EU Registered Community Design No. 006577672-0001
- Chinese patent number ZL201930276572.6
Our Makeup Brush Drying Rack has some amazing features:
- 2 trays for drying brushes and a top tray for drying sponges.
- Can hold up to 50 brushes* and 10 wet makeup sponges.
- The dimensions of the brush don't matter - it will fit!
- Very easy to use. Simply lay your brushes on the tray – a no-brainer!
- Saves time and effort.
- Small step on the tray creates an angle so that brushes can dry without water damaging the ferrule.
- Rubber band prevents brushes from sliding.
- Top tray designed to hold sponges and prevent them from rolling and falling.
- We have also added a unique mini tray to hold your brushes during the washing process.
- Easy to install and uninstall.
- Put it anywhere and keep your brushes safe from the reach of pets and children.
- Small tools collection? You can use just two of the trays by connecting the top and the bottom tray, creating a two-story rack.
*50 eye brushes, 25 face brushes, and somewhere in between when drying brushes of different sizes and shapes.
How to Install- Rivanli User Guide:
Click here for a video tutorial
How to use:
Watch a short video tutorial here.
Drying makeup brushes:
Use the pink mini tray, which will help you save time and make the whole process much more efficient!
During the shampooing process: After shampooing each brush, place it on the tray while you finish shampooing all of the other brushes. Simply stack them on the tray and feel how organized and easy this process has just become.
After you have finished shampooing all of the brushes, wash the soap out of each one. Be sure to squeeze every brush well before placing it on the tray. This will prevent water from dripping.
When placing the brush on the tray, make sure that you position the far part of the handle on the step at the back of the tray, and the brush's head on and beyond the rubber band.
Short brushes won't reach the rubber band, but that's OK! Just place them in the same way, but with the brush head on the tray itself. The tray is perforated with holes to keep the air flowing, allowing your brushes to dry quickly and easily. Just make sure that you leave them facing down at an angle!
Drying makeup sponges:
After washing the soap out of your sponges, squeeze the water out of them very well before placing them on the top tray. This will prevent water from dripping.
Net Weight: 1.7 lb / 770 g
Width: 110.23 in / 280 cm
Tray's depth: 63.58 in / 161.5 cm
Total depth: 89.76 in / 288 cm
Hight: 104.72 in / 266 cm
Watch these reviews made by amazing beauty influencer: Jen Phelps, Tina "The Fancy Face" and Robert Welsh.
Drying rack for makeup brushes
I absolutely love this idea. It's perfect for all my brushes. It is so handy, the possibilities for use is endless.
So happy to read your review! Thank you so much :)
PRICE IS STEEP BUT WORTH IT FOR THE MAKEUP LOVERS!
The design is great! I'm building my brush game up so this is working perfectly.
Brushes don't roll off and it holds the sponges too.
It's a drying rack so I've set some other things (light weight) to dry.
I read somewhere that you can add one more rack on it for more brushes but they don't sale a rack separately. That would be really nice to get 1 additional shelf for a small fee.
If you are thinking about buying …. GET IT!!
Who hates washing the brushes? Well this makes it a lot easier to set on my vanity to let them dry. No vanity? Well you can sit the rack anywhere and let it dry.
Now you can get your counter, table, toilet space back. Really, how long do you leave your brushes to dry? So for 24hrs they won't be in the way. #GetThisGirl
I would definitely buy this again for MYSELF.
It's not in my price range for gift giving cause if you buy for one you have to buy for all! LOL! I will definitely share this with the ladies so they can buy with their own coins or put on their list for Santa. LOL #GreatFind
Thanks Rivanli. P.S Can you sell one extra single shelf! #HappyHolidays
OMG thank you for your beautiful review and for the extra effort you put in it! Really appreciate it! XOXO
Got the rack for my watercolor paint brushed. Works well.
Oh cool, that's a good use for it :) Thank you so much for your review and have a happy new year!
Brush Rack
I absolutely LOVE IT. My brushes are more organized after cleaning them and NOT laying out on a towel and all over and in the way.
Yes! Exactly! Thanks so much for your feedback! ❤️
BRUSHES & SPONGES DRYING RACK